Successful domestic companies wishing to expand abroad, global companies with local offices and start-ups in different countries wanting to sell their products online throughout the world, face a common challenge: to organize their global customer service so as to ensure that the service experience leads to high customer loyalty — ideally with customers individually addressed in their mother tongue.  At the same time, however, the costs must not spiral out of control. With Sematell's software solution ReplyOne, service organizations operating around the world can supply central customer service management on all written communication channels and with automatic language identification in over 70 languages with a high degree of efficiency.
Central platform creating overarching transparency across countries
Many global companies have long since recognized that important corporate processes should be managed with the aid of centrally managed enterprise software solutions. This applies in particular to the areas of Enterprise Resource Planning (ERP), Customer Relationship Management (CRM) and Human Resources. Customer service, on the other hand, is still widely regarded as a matter for each country although its strategic significance has grown appreciably in the last few years and senior management should be paying it greater attention. The result: Companies are faced with a wide variety of service solutions in individual companies — from completely manual processing with "hand-made" solutions to a range of different professional software solutions which, although they work as a stand-alone solution, fail to deliver transparent, all-encompassing service management. With such systems, it is almost impossible to identify overarching service issues which should be addressed by companies in all countries as a matter of priority. 
Companies achieve optimum transparency when they manage their customer service centrally for all languages with a professional, multilingual omni-channel solution such as ReplyOne. The advantage lies in uniformly defined service processes and transparency across service volumes and topics in all countries, coupled with the opportunity to successively automate individual processes with the aid of powerful artificial intelligence. 
With ReplyOne, companies have the choice of whether to reflect the entire international service organization through a single client or as separate clients, e.g. legally independent country organizations. Even with several clients, meaningful reports can be quickly prepared, compiled and evaluated in accordance with a predefined structure. 
Automatic language identification 
The starting point for implementing ReplyOne as an enterprise solution consisting of a total of six strong system components, is first to install the solution in a "central language". The sensible route is to choose between the language in which the highest number of service inquiries are likely to be received, the language of the company headquarters or English, for example, as a common international denominator. All correspondence across the entire gamut of channels of communication from digitized letters via emails to social media and chat rooms is combined in the solution through ReplyHub. The next step is to conduct an analysis of languages and subjects with ­ReplyAnalytics, the solution for identifying the language and recognizing subjects which was developed together with the German Research Center for Artificial Intelligence (DFKI). Additional information on the inquiry is collated with ReplyLink from different corporate systems, e.g. ERP or CRM systems. This can be used to complete customer data, add contact history or display outstanding delivery dates. Service employees themselves work with ReplyDesk, the centerpiece of which is a clear, standard, intuitive user interface through which all channels of communication can be serviced. 
Routing by country or language proficiency
ReplyOne can reflect the processes behind different forms of organization for international service.  A wide variety of routing options are available through ReplyRouting. For example, the solution can allocate all inquiries in a certain language to the local organization staffed by native speakers in each case, and conduct "queue-based" routing there in which the individual inquiries can be processed in order of urgency based on the channel of reception and further aspects. Alternatively, the relevant company can work with a central service organization with multilingual employees: here ReplyAnalytics can assess the complexity of an inquiry on the basis of identifying the language and recognizing the subject, and route them in accordance with pre-defined skill levels. Simple inquiries can thus be expertly and accurately processed even by non-native speakers because ReplyOne automatically prompts appropriate, factually verified text blocks in the national language to answer the query. From a certain degree of complexity onwards, inquiries are routed to native speaker members of the service team. Further distinctions can be made by levels of factual expertise. Both options can be combined with queue-based routing in any way desired.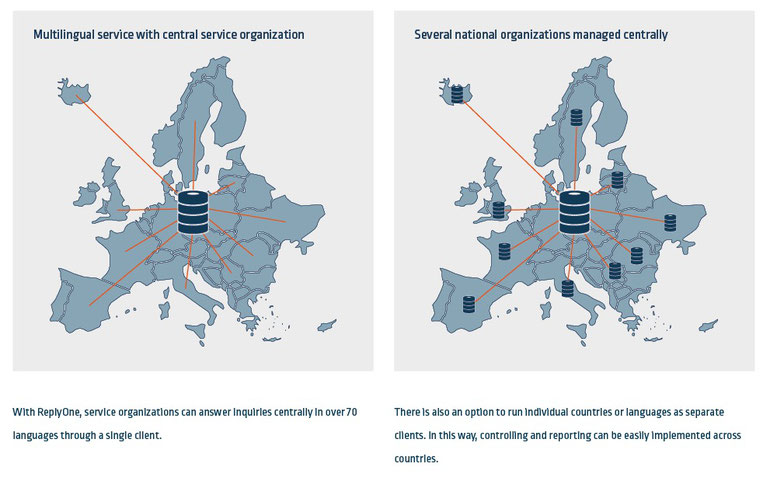 Perfect service even with small service organizations with the aid of integrated translation solutions
If companies are already operating globally but have not yet reached the critical mass to have their own organizations in each country, ReplyOne can ensure with the aid of specialized translation tools that can be integrated with the solution, that perfect service can be delivered in the customer's mother tongue even with a small team. In the process, these language engines translate the inquiry into the mother tongue of the service employee, and ReplyOne displays appropriate reply blocks in the same language. In the answer, ReplyOne uses the text block in the target language, and additional text is translated back into the desired language by the language engine. Depending on the number of different text blocks or categories, a decision can be made in the course of the project whether it makes sense to keep text blocks in the relevant national language, also in terms of maintaining and updating them factually, or whether the inquiries are so varied that only translation solutions should be used.
The performance of such professional translation solutions has grown enormously in the last few years, and in many cases they can scarcely be distinguished from professional "human" translators. As additional quality control, the routing options available in ReplyOne can be used to have a review conducted by a native speaker on the staff, i.e. all proposed replies already processed pass over this employee's desk who can accept or reject the answers. 
A solution of this nature also makes sense in view of the shortage of specialists in the sector, and especially the high demand for multilingual service experts. Service organizations therefore receive the backing of a pragmatic solution which helps them to bridge or at least cushion personnel bottlenecks in finding service specialists who are also native speakers.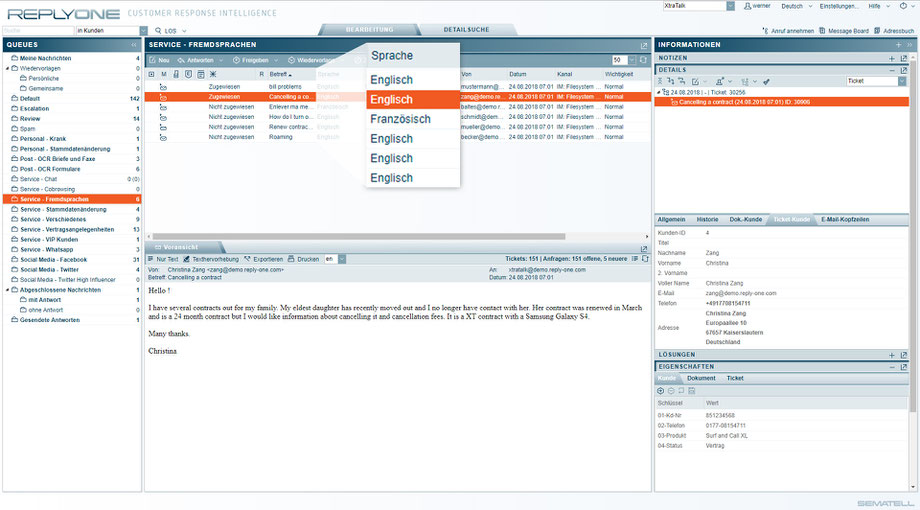 With ReplyOne, inquiries can be processed in different languages at the same time — regardless of the language of the user interface. The powerful artificial intelligence reliably identifies the language with the result that the inquiry can be quickly routed to the right team or employee with the right reply text block in the same language.
Localization - opportunity for excellent customer satisfaction 
"All business is local" – this is one of the principles of international business. However, digitization has shifted the interpretation of this principle somewhat. It's no longer necessarily about the customer being able to buy in a local shop but having a shopping experience at the point of sale tailored to their local needs — and in today's day and age, that is more and more frequently the Internet. To be specific, customers expect perfectly translated websites and shops, and of course after-sales customer service that lives up to their demands and the traditions of their home country. While communication in Germany is very sober, factual and gets straight to the point, Anglo-American countries, for example, tend to adopt a more casual conversational tone. Service organizations should therefore guard against 1:1 translations when it comes to text blocks. The fine art of excellent customer experience lies in localization. Here the contents of the reply text blocks are modified to fit the needs and expectations of the particular country. The preferred channels of communication also differ significantly in some cases from country to country. The French, Dutch and Italians, for example, as well as many customers from Anglo-American countries, have a significantly greater affinity with social media than German customers. Preferences for communication channels should therefore be included in the routing criteria and workforce scheduling. 
Legal frameworks and technical prerequisites 
Companies should also focus on the legal frameworks in individual countries when it comes to service as under certain circumstances, they may have a substantial effect on how a target organization can be structured. Data protection requirements set out in the General Data Protection Regulation are as relevant here in Europe as statutory regulations in single countries such as Russia. For example, it is not permitted there to exchange data across borders. Framework conditions such as these necessarily define where a solution can be installed or hosted.
Added to this are technical considerations. ReplyOne provides the user interface in a total of 6 languages and overall it can process 70 languages, among them also Cyrillic and Asian characters. Other enterprise systems may not be able to process such characters coded in accordance with UTF-16 in some cases, which makes central operation and central control harder to realize. 
A software solution must be flexibly adaptable to different service structures 
This regulatory and cultural adaptation as well as preliminary considerations on categories of subjects or the structure of the service organization represent tasks from which no software solution can absolve those responsible for the service. However, one of ReplyOne's great strengths is its total flexibility which enables companies to reflect both their first steps in global service from their home country and a multinational service organization through the solution. At the same time, the powerful artificial intelligence ensures that many steps in the process can be gradually automated. ReplyOne only needs 20 to 30 documents per category and language as examples to learn from in order to recognize and categorize subjects precisely. Regular training with new examples ensures that the extremely high confidence score of over 95% remains at this high level for future inquiries.  
Control of multinational service organizations with ReplyControl 
In order to be able to manage a service organization efficiently both from a cost perspective and with respect to the customer experience, service managers need to aggregate information on the volumes of inquiries in individual countries and languages, the most important topics, processing times and much more besides. ReplyControl is the system component in ReplyOne which delivers just that. In a web-based interface, contact center managers can observe and evaluate all operational service processes, compare them with the KPIs relevant for them and if necessary intervene immediately and make adjustments — and can do so not only from their office but also on mobile devices when they are on the road. The differentiated assignment of rights for different departments or locations enables a wide variety of different organizational structures and levels of transparency to be mapped — an indispensable control element for international service organizations.
Conclusion: With over 70 languages supported, high capacity for integration with upstream and downstream corporate systems and enormous flexibility in the way in which the desired target organization is reflected, ReplyOne offers the best prerequisites for perfect service — anywhere in the world.